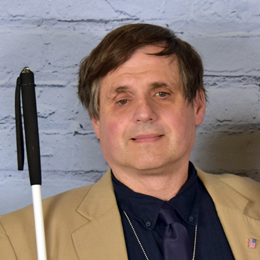 John Fritz
TREASURER
President of the National Federation of the Blind of Wisconsin, National Federation of the Blind Board Member, Business Owner, Advocate, and Father
John Fritz was raised on a family dairy farm in southwest Wisconsin. He is the oldest of five children. He was born legally blind but had some sight, which slowly decreased until he was totally blind. He believed at an early age that sight was not a requirement to be successful.
John attended the Wisconsin School for the Blind through seventh grade, and then graduated with honors from his local high school. While in high school he achieved the American Farmer Degree through Future Farmers of America (FFA )John attended the University of Wisconsin-Platteville, where he graduated with honors in 1989 with a major in animal science, emphasizing dairy management, nutrition, and reproduction. The most significant event of my life occurred the summer of my sophomore year when I won a National Federation of the Blind scholarship in Phoenix, Arizona," John said. This was his first exposure to the NFB. He was relieved to find peers doing similar things and blind people with the same philosophy. He realized during that convention that he had finally found the biggest and most reliable source of information any blind college student could ever have—other blind people.
John started working on the family dairy farm right after graduating from college. In 1991 he started working part-time for a local computer store as a computer technician. His main responsibility was repairing computers. The next year he became store manager.
In 1995 he married Heather Ross, who he had met at the 1992 NFB Convention in Charlotte. In 1997 he accepted a job with the Louisiana Center for the Blind as the computer instructor. While in Louisiana, John and Heather Fritz started their family. Lindsey was born in 1998, Christina was born in 1999, Mark was sponsored from Korea in 2001, and Andrew was born in 2002.In 2003 John made the difficult decision to leave his job and friends at the center and returned home to Wisconsin to begin his own vending business with the Business Enterprise program. This is what he continues to do today. In 2005 the Fritzes adopted their daughter Katie from China at the age of six. Child number six, a four-year-old boy from India they named Jacob was adopted in May 2009, and a 17 year old daughter named Anna, who was originally adopted from China by another family when she was 9 years old, and then moved on to become part of the Fritz clan in the Summer of 2009.
John says that he was honored to be elected president of the NFB of Wisconsin in 2006. In 2008 he was elected to the National Federation of the Blind board of directors. He remains very busy with the state affiliate, along with being a member of Lions Club, the local Hand Radio Club, and various other clubs and organizations. He also likes to do woodworking, grilling, fishing and hunting large game with his kids.
Reflecting on his life and work, John says, "The National Federation of the Blind doesn't prescribe what a blind person should do or even what he or she can do. It merely invites every blind person to dream and work to achieve those dreams. Its members blaze trail for one another and cheer each other along the way."